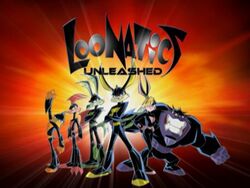 Loonatics Unleashed is an action-comedy animated series which debuted on the Kids' WB! on September 2005. It is based on the Looney Tunes franchise and is meant to combine the irrelevant humor style of the Looney Tune with the aesthetics of a more modern action series. The series lasted for 2 seasons that consisted of 13 episodes each and total of 26 episodes altogether before ending in May 2007. The series was the last program based on the Looney Tunes franchise to air on the Kids' WB! block.
The events of Loonatics Unleashed occur in the year 2772, the year that a meteor strikes the city-planet of Acmetropolis, knocking it completely off its original axis. Instead of destroying the planet, the meteor crashes in a waterfront, releasing waves of supernatural energies causing some of the planet's citizens' genetic codes to be severely altered, granting them special abilities and strengths. A mysterious and powerful woman named Zadavia calls upon six teenagers of the affected residents to form a team of superheroes. She becomes their commander, dispatching them for the purpose of combating any and all threats to Acmetropolis and its citizens. The newly formed team is known as the Loonatics and reside on the 134th floor of a large tower. These characters are the descendants of the classic Looney Tunes characters, according to multiple press releases and official sources. Descendants of other Looney Tunes are unverified, though they can be inferred in certain situations.
Warner Bros. has collected the show's first thirteen episodes on a two-disc collection titled "Loonatics Unleashed: The Complete First Season." The set comes in a single-wide keep case with a hinged tray holding the second disc.
Each disc offers a "play all" feature. There are no chapter stops within the individual episodes.
The episodes featured in this collection are:
Disc One: "Loonatics on Ice," "Attack of the Fuzz Balls," "The Cloak of Black Velvet," "Weathering Heights," "Going Underground," "The Comet Cometh," and "The World Is My Circus."
Disc Two: "Stop the World I Want to Get Off," "Sypher," "The Menace of Mastermind," "Time After Time," "Acmegeddon: Part One," and "Acmegeddon: Part Two."
Extras
"Loonatics Unleashed: Villain Invasion" is an interactive game in which you use your remote to move a target across the screen; shoot down meteors before they fall onto the city.
Also included is a set of previews for other Warner Bros. releases.
Community content is available under
CC-BY-SA
unless otherwise noted.