The Sylvester & Tweety Mysteries, produced by Warner Bros. Animation, is an animated television series which aired from 1995 to December, 2000 on Kids' WB and was later re-run on Cartoon Network. It follows Looney Tunes characters Sylvester and Tweety Bird, and their owner Granny, along with bulldog Hector (who appeared in several cartoons alongside Tweety, Sylvester and Granny but was in the series given a new design similar to that of Marc Antony), as they solved mysteries, even with Sylvester still trying to eat Tweety in the middle of solving the mysteries, but Hector acted as a bodyguard for Tweety, and would even beat Sylvester up (usually out of shot, but sometimes behind a blind). The first season was dedicated to the memory of Friz Freleng, who had died a month before the series premiere. Also, it contains one case per episode, in contrast to the other seasons, which are all with two cases.
Other Looney Tunes characters make cameo appearances, including Daffy Duck, Yosemite Sam, Elmer Fudd, Tasmanian Devil, Pepe Le Pew, Beaky Buzzard, Babbit and Catstello, Hubie and Bertie, Witch Hazel, Michigan J. Frog, Rocky and Mugsy, Marvin the Martian, Hippety Hopper, Gossamer, Count Blood Count, and latter-day Warner cartoon star Cool Cat who appears in some form in most of the episodes.
The final episode of the series never aired on Kids' WB - in which after decades of trying Sylvester succeeded in eating Tweety - but did air on Cartoon Network in
2002
.
[1]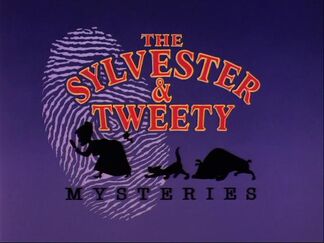 [hide]*1 Voice cast
2 DVD releases
3 Awards
4 References
5 External links
Voice cast
Edit
DVD releases
Edit
On September 9, 2008, Warner Home Video released The Complete First Season of The Sylvester and Tweety Mysteries on DVD in Region 1. This release comes exactly 13 years since the premiere of the show. Although no further DVD release announcements have been made, the second season may be expected in 2010.
| DVD Name | Ep # | Release Date |
| --- | --- | --- |
| The Complete First Season | 13 | September 9, 2008 |
The series was nominated multiple times for a Daytime Emmy Award in the category Special Class Animated Program. The series won an Annie Award in the category of voice acting for June Foray in the role of Granny.
References
Edit
Community content is available under
CC-BY-SA
unless otherwise noted.